Once again I find myself leaving a church with slightly mixed feelings.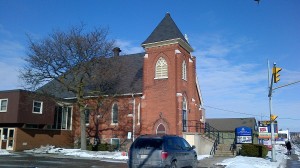 This morning I attended Essa Road Presbyterian Church.  This is a friendly congregation, with around 70 people in attendance.  The demographics are weighted towards the older end of the spectrum, but there were several kids and young families there too.
The structure of the service was very much like any other evangelical church: opening music, announcements, some hymn singing and a 'talky bit'.
However today was also the 'induction' of several new elders, which gave me an interesting snapshot into the functioning of a Presbyterian church.
As I've noticed before, some churches find it important to be very precise in their understanding of church structure, and that is definitely the case here.  Clearly Presbyterians find church government a topic of high importance.  A significant amount of the service was given over to reviewing the structure of the Presbyterian church, the role of elders, and the way that the congregation is expected to treat them.
To be honest, I felt a little uncomfortable by some of this.  It was clearly stated that "God has ordained these elders" and that "Failure to submit to them is to rebel against God." A distinction was made between congregants that are 'teachable' and submissive, and those that question authority.
I found myself wondering what an outsider would think of all this.   Would all this talk of authority and submission sound reassuring, or threatening?  A lot of the language used  deftly tied God's authority with the Church's authority.  I do find this a bit ironic coming from a Reformed church, which by definition rejects the authority that the Catholic church claims to derive from God.
One day I really hope that I have the opportunity to sit down with a catholic theologian, a reformed theologian, and possibly an umpire, and ask them both to explain to me why the structure and authority of their particular church is God given.
Having said all that, I had a very pleasant time after the service, meeting and chatting with folks from the church.  This is a welcoming congregation, and talking with the pastor afterwards I found a lot of support for the idea that the churches in Barrie should be complementing one another, rather than competing with each other.
One of the challenges that we will have to face as we work towards greater collaboration in the Church in Barrie will be addressing how we reconcile our deep convictions about 'correct' church structure and governance with our desire to bless and learn from our brothers and sisters in other denominations.