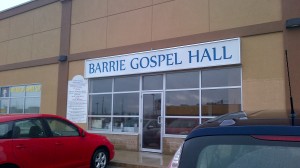 Some of the churches that I've visited on my 'church crawl' have given a lot of thought to the new visitor's experience.  Redwood Park creates a cafe style environment in the foyer.  Connexus uses the familiar environment of a movie theatre to make newcomers feel at home.  Barrie Free Methodist has a welcome centre to introduce you to the church and explain what to expect on a Sunday morning.
At others, like Barrie Gospel Hall, it's assumed that you know what you're doing. As I said in my previous post, I've had some experience of the various expressions of the Brethren movement, so I had some idea what to expect.  A complete newcomer might find the experience a little confusing, however.
The first thing that strikes a visitor to Barrie Gospel Hall is the clear separation between 'insiders' and 'outsiders'.  'Insiders' sit in a square around the communion table, and 'outsiders' are gently guided to a secondary row of chairs at the back of the room.  It's very important to folks in this church to draw a distinction between participants and observers of the service.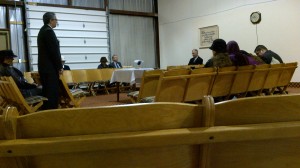 This is a small congregation, with 17 or so adults present this morning.  The first half of the service was a set of five-minute meditations given by various members of the congregation.  These were delivered in the form of prayers, and mostly couched in what sounded like 17th century English.  Interspersed with these meditations were several a capella hymns sung very well, if a little slowly.
Although the language was sometimes hard to follow, it was clear that all the meditations and hymns focused on Christ's passion and crucifixion, and this focus culminated in the celebration of communion.  The bread and wine were passed around the 'insider' group, carefully avoiding  those of us in the 'outsiders' row.
The service wound up after a short sermon and announcements.
Fortunately, in common with all other churches in the city, Barrie Gospel Hall believes in sharing coffee and Timbits after the service.  I got to meet and chat with a few members of the church, and once more ask my favourite questions about what God is doing in the city and what the mission of this particular church is.
Once again, these turned out to be hard questions to answer.  The mission of this church is, apparently, to witness to the gospel and make disciples.  I feel that they may have some hard questions to ask themselves if after 70 years of following this mission they have a mere 14 members.
I was also left with a strong impression of 'exclusivity'.  I was told very clearly that there is 'One True Way' of doing church, that Barrie Gospel Hall is getting it right, and that all the other churches in the city, by implication, are not.
It saddens me to hear this.  I've been thrilled to get to see over the past few months some of the different expressions of Christianity in the city, and the diverse ways in which people are encountering Christ and celebrating their faith together.  To be told that all the people I've met so far are misguided is not something that sits well with me.
My sincere hope is that the churches in Barrie can transcend their boundaries.  As Greg Neuman at Big Church said when I visited, "God is calling the churches of Barrie to compliment, not compete with each other."