Here it finally is!  The Long Run is now available at Lulu.com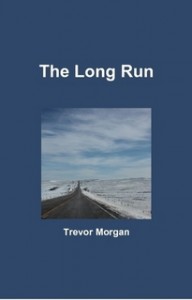 .
Jamie Simons has achieved his life-long goal of wearing the Yellow Jersey. But he has come to realize that the glamourous world of professional cycling has a seedy underbelly. When forced to choose between the truth and winning, Jamie's choice leaves him spiraling downhill fast. In his exciting debut novel, Trevor Morgan brings us a story of competition, conflict, transformation and hope, in a book that takes a behind-the-scenes look at the world of Endurance Sport.
So yeah, if you're wondering what happens when an up-and-coming professional cyclists encounters the reality of team politics, intrigue and doping, go buy this book!