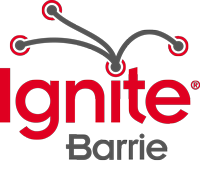 I got to give a little presentation at Ignite Barrie this evening.  I found it surprisingly good fun to stand in front of a room full of people and share a little about my experiences running triathlons and some of the life lessons that I've learned in becoming a triathlete.
We also got to hear from a beekeeper, a poet, a science-fiction fan and many other unique and wonderful individuals from the community.  I'm learning that Barrie truly is a diverse and fascinating city!
I'll put a link up to the videos of the evening once they are posted.