I haven't visited very many overtly charismatic churches in my church crawl yet, so I began to redress this imbalance on Thursday night with a visit to Barrie Victory Centre.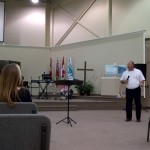 I suppose it's odd that we even have a distinction between charismatic/non charismatic.  Let's face it, it's an inescapable fact that the gospels are absolutely chock full of wild, crazy, supernatural stuff.
Think about the book of Mark.  We encounter the first miracle halfway into the first chapter.   In fact, a quick review reveals that every single one of the first eleven chapters of Mark describes at least one miracle.  Jesus heals people.  Jesus controls the forces of nature.  Jesus performs exorcisms, and even brings dead people back to life.
If all we had was the Gospel of Mark, we would have to assume that Christianity was about little else than healing, deliverance, and miracles.
Strangely, though, I haven't actually heard much talk of this in most of the churches that I've visited so far.  One church even managed to preach an entire thirty minute sermon about Mark 1:29-34 without ever once mentioning the supernatural nature of the healings and exorcism that the passage talks about.
However, there are churches that talk about little else.  Barrie Victory Centre, for example.
Now, to be perfectly honest, there were a number of things that made me uncomfortable on Thursday night.   The sermon went on for 90 minutes and I have no idea what it was meant to be about.  I took pages of notes, and even after reviewing them now I still can't figure out what the structure or intent of the talk was supposed to be.
What did stick in my mind ranged from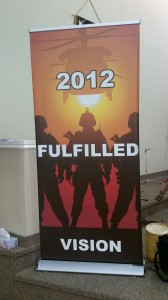 the unfortunate (such as carrying around a whip for the entire sermon as a bizarre visual aid) to the downright dangerous (such as claiming that 'Real Christians' will never experience depression or burnout.)
The large and rather disconcerting banner at the front of the church portraying heavily armed soldiers and helicopters like something out of Apocalypse Now didn't help either.
However, this is also a genuinely warm and friendly bunch of people.  Many folks greeted me before and after the service, and I had a pleasant chat with the pastor and other members of the the congregation.   And I'm actually very much in favour of the charismatic movement: some of my most formative Christian experiences have been in charismatic churches, and I find that they bring a dimension to our shared faith that is frequently missing in other churches.
On reflection, I suspect that the main problem here is dis-connectedness.  Other churches in Barrie could benefit from Victory's expectation that the Holy Spirit is tangibly active in our community today.  Likewise, Victory could perhaps benefit from  a Christian Reformed approach to vigorous exegesis, or the Salvation Army's practical approach to serving the local community.
By her own admission, Victory is not particularly connected to the other churches in the city, and this is unfortunate.  I'd love to see the mutual benefits that would happen if our charismatic churches engaged more fully with those whose emphasis is liturgy, social action, or theological reflection.