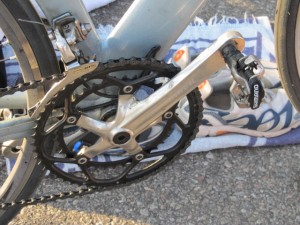 Quick question.  Have you heard of a man called Tiger Woods?
Of course you have.  He's very famous for his ability to walk around a leafy green environment and hit little white balls into holes.  He's won a number of the competitions that he's entered.  He's also earned millions in prize money and sponsorship deals.
Another question.  Have you heard of Chrissie Wellington?
Maybe not.  Chrissie is also an athlete.  On Saturday she got up very early in the morning, swam 4 kilometers in the Pacific Ocean, biked 180 kilometers over the  lava plains of Hawai, and then finished up with a 42 kilometer marathon run.
Chrissie races Ironman.
And while Tiger Woods has won a lot of competitions, no one has ever beaten Chrissie.
Think about that.  She has entered 13 iron-distance races, perhaps the most gruelling 1-day event in sport.  And she has won every single time.  On Saturday she won the Ironman World Championship in Hawaii for the fourth time, nearly beating the course record that she set two years ago.
Oh, and before she started this career she worked to bring water and sanitation to countries affected by conflict.
So, if you want an athlete to be inspired by, you could do a lot worse than Wellington.  The first thing she said after crossing the finish line on Saturday was to dedicate her win to her nearest competitor, Mirinda Carfrae, in honour of how hard she had pushed the pace in the baking Hawaii heat.
Now that is serious class.