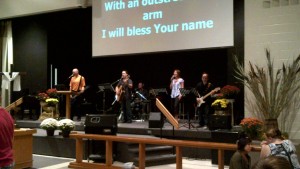 This is the biggest church I've attended so far on my 'church crawl.'  I'd guess that there were at least 250 people at the service on Sunday, and apparently this was a smaller than usual crowd due to it being Thanksgiving.
I wasn't familiar with the denominational history of the 'Free' Methodist movement, and despite getting two different (and somewhat contradictory) accounts of its history at coffee time before the service I still don't feel I can provide an accurate portrayal of its distinctives, or how it differs from any other Methodist church.
According to one of the members that I met, the Free Methodist church has an emphasis on Arminian theology, and would see itself as being similar to a Wesleyan or Nazarene church.  That said, I didn't really observe anything in the service that would be out of place in any other Canadian evangelical or baptist church.
The service itself was a very polished affair.  We were led in several songs by a very tight band – any of its members could easily be a session musician.  Unlike several churches I've been at the congregation joined in enthusiastically, and even if the music felt like a performance sometimes, space was also left for our voices as well.
Pastor John-Mark gave the sermon, taking about half an hour to talk about worship.  His delivery was engaging and precise, and although he didn't have anything particularly earth-shattering to say, when I got to talk to him after the service I got the feeling that he's someone who is thinking hard about the mission of the church in general and this congregation in particular, and who wants to work out practical ways of calling Christians to discipleship.
I left Barrie Free Methodist with a couple of impressions.  Firstly, I suspect that if you are an established member, this is a very warm, friendly and supportive community that takes its mission seriously.  However, if you're an outsider, I wouldn't be surprised if it took quite a long time to be fully accepted into the family.
Finally, I left with the realisation that I'm still struggling to understand exactly what the mission of the Church is.  What is Church for?  Why do we go every week?  What is the Church trying to achieve, and how will we know that we're achieving it?  I'll investigate this further in a subsequent post.